Year 5
WELCOME TO MORPURGO CLASS
Here at Lyminster Primary School we believe that the Year 5 children should be given the opportunity to grow in confidence as young people both academically and personally. As they enter the Upper Phase, we aim to prepare them for their final stage of learning in primary school. We continue to help them develop as independent learners who can thrive and progress through the experiences of a wide and broad-based curriculum. We continue to develop their confidence skills and encourage them to become naturally curious learners.
HOME LEARNING
In the event of a school closure or your child having to self isolate, you can access the following learning material for your Year 5 child:
This is a website with step by step videos and worksheets (which you can print or just have a go at on paper whilst looking at them on the screen) We are working on this area of fractions but you may want to look at other areas of the website too with your child. Basic addition, subtraction, multiplication and division using standard methods would be good to practise.
This website has all the Greek myths in well written but child friendly language. Encourage your child to read some of these, or read with/to them to expose them to a wide range of these tales. We are writing our own Greek myths in class, so they could write their own Greek myth at home and even illustrate it or make it into a book, with a front cover and blurb if they want to.
Continue to use TTRockstars to practise multiplication tables (essential for Fractions!) and MyMaths- there are lots of games on here to play plus I will set MyMaths tasks.
You can also access all the other website links within the 'My Learning' area of this website under 'Useful links'. Let your child find out about and learn within an area they are interested in/a subject they enjoy or have a talent for e.g.Geography and mapwork/digital maps.
Your child can spend time revising all Year 4 and 5 spellings and checking they know them. They can go back through their homework task sheets in their Homework Book to check all spellings.
The most valuable thing your child can do is read! Read whatever they are interested in and talk about what they read. Read together and with siblings or to younger siblings. We will be reading and studying Micheal Morpurgo's 'Kensuke's Kingdom' and so reading this would be great!
| Name | |
| --- | --- |
| Year 5 Spr 3 Decimals and Percentages Maths Code Crackers.pdf | Download |
| Year 5 Spr 1 Multiplication and Division Maths Code Crackers.pdf | Download |
| Year 5 Spr 2 Fractions Maths Code Crackers.pdf | Download |
| Y5 Topic Web Spring 2 2020.pdf | Download |
| Y5 Newsletter Spring 2 2020.pdf | Download |
| Y5 Newsletter.pdf | Download |
| Y5 Topic Web.pdf | Download |
| MyMaths Y5Y6 meeting 5 Nov 19.docx | Download |
| Year 5 spellings Spellathon 18 19.docx.pdf | Download |
| Parents_Guide_Year_5.pdf | Download |
RE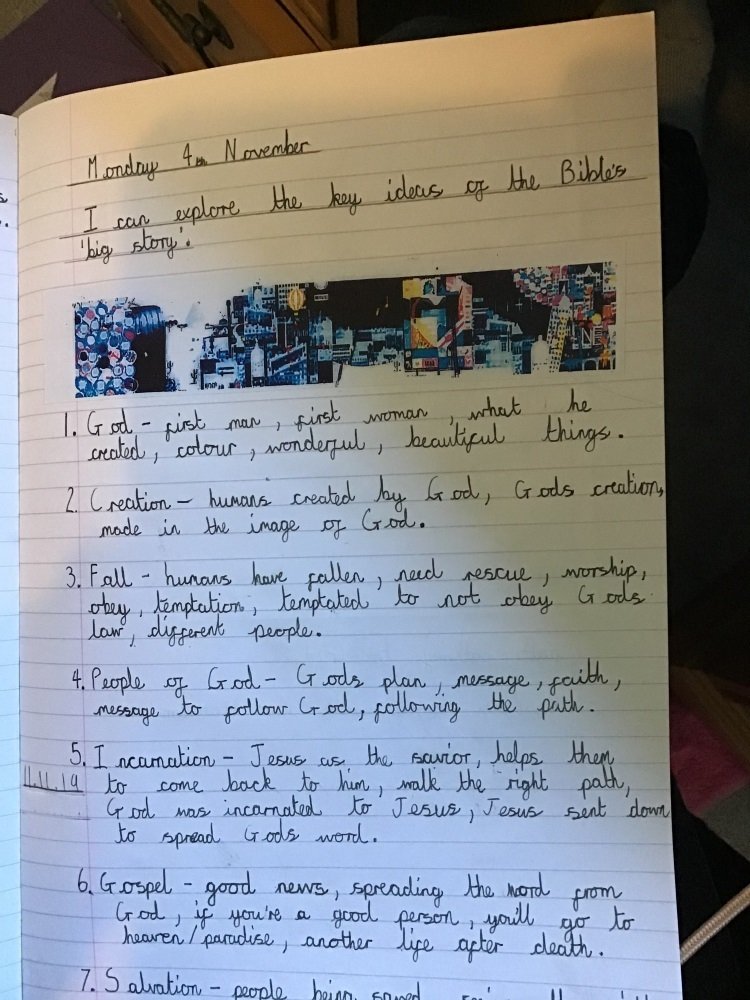 God is Loving
Spring Term
During this term we have had great fun learning all about the Greeks! The children have looked at the geography of this country and compared it to the UK plus studied the food grown and eaten there. The children worked hard to produce their own fact sheets all about Greece where they researched their information and presented it neatly with the features of an information text, such as headings, sub-headings, captions. We have also had a GReek Day where we focused on the Ancient Greeks and enjoyed dressing up.
Restaurant Wars!
We made Moussaka in stages. First making the white sauce then the meat mixture (and a veggie option!) then we sliced and baked the aubergines and potatoes and finally layered it all up. We served up our dishes on the day of the Restaurant Wars and received a huge amount of very positive feedback and...won! Well done Year 5!
Greek Day
All had great fund dressing up as Ancient Greeks and taking part in the following activities: Greek myth drama workshop, Ancient Greek writing, Ancient Greek Maths, Making clay Greek vases and Greek dancing to Zorba the Greek! The children all looked fantastic and joined in fully with all the activities.
Skellig Workshop at The Littlehampton Academy
We have been reading the book Skellig by David Almond and all have thoroughly enjoyed the story. Year 5 then got the opportunity to travel to and take part in this workshop where they all made brilliant clay figures of Skellig and added wings made of wire and paper. Our thanks to TLA for hosting and organising this.
Final mini topic- Kensuke's Kingdom, Michael Morpurgo
We will be reading and studying this book, linking our written work and our art work to it.
Computing
Follow the link to play Ricsean's fantastic maze game, created using Scratch: Gobo's Maze
year 5
Grace S (sadlg010) on: year 5
This week our school has been thinking about how we can be more inclusive. In assembly we put some ideas on a sheet .
---
Year 5
Arlen I (irvia039) on: Year 5
This week in Year 5 we made descriptions of Grendel and the setting of his lair and we read the story of Beowulf to get an idea of what to write about. This week's writer of the week was Harvey. Some students of Year 5 have been chosen for a Handwriting group with a year 5 teaching assistant.
---