Year 4
WELCOME TO DAVIES CLASS
In Year 4, learning journeys have been expertly designed to capture children's interests while exposing them to the wonders of the world beyond their own experience. Topics across the curriculum are comprised of a range of immersive learning experiences that challenge learners' thinking and encourages them to further question, investigate and analyse concepts. In addition to this, teaching and learning is rigorous, nowhere more so than in the basics, and expectations are very high, but it is exciting and meaningful for the children. Children in Year 4 will fall in love with reading, learning and exploration.
Island Life (Fire and Ice)
Our Year 4 topic at the moment is all about life on an island. We will be exploring the depths of crevasses and the heights of volcanoes. We will dive into unknown lagoons and experience powerful waterfalls.
We will be focusing on Iceland and the UK, developing our geographical skills through map work and our understanding of the landscapes. We will also be learning Icelandic folklore and the story of Skess and Landra the stone trolls in English, using our imagination to innovate the traditional tale.
In art, we will be looking at the work of Icelandic artists and using recycled materials to create our own models. This will link to our climate change research as we explore how to protect these beautiful islands.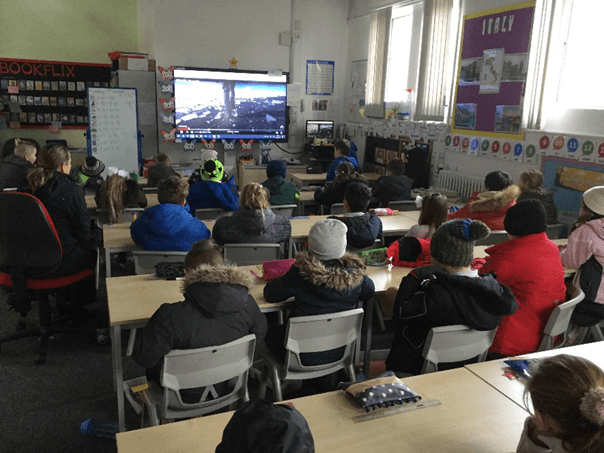 Our WOW day
In lieu of actually going to Iceland, we suited and booted in our warmest winter gear and went on a virtual tour through glaciers and under waterfalls. Our favourite part was fly over canyons and looking down at the tumbling water below.
HOME LEARNING
Here are some suggested activities and useful website links for your child to try at home during the school closure.
Mathematics
https://thirdspacelearning.com/blog/how-to-teach-telling-time-ks1-ks2-activities/
Please find activities and information by following the Third Space Learning link. This is a website with step by step videos and worksheets (which you can print or just have a go at on paper whilst looking at them on the screen). Basic addition, subtraction, multiplication and division using standard methods would be good to practice.
This is a new website set up with maths games and activities. Your child will have their own username and password. Homework activities will be updated each Friday for the coming week.
Continue to use TTRockstars to practise multiplication tables.
English
The children love Free Writing and Pobble 365 has a new writing stimulus every day! There are sentence starters and prompts with each sentence and your children already use these in the classroom. Please keep any writing that the children do as we would love to see this when they return.
For handwriting:
Please encourage your child to practice their handwriting skills whenever they are writing - the Letter Join website is available to support handwriting practice. The username is ak3814 and the password is home.
You can also access all the other website links within the 'My Learning' area of this website under 'Useful links'. Let your child find out about and learn within an area they are interested in/a subject they enjoy or have a talent for e.g. Geography and mapwork/digital maps or History and a particular period of time that your child is interested in.
BBC Bitesize has great videos games and activities for all areas of the Key Stage 2 curriculum https://www.bbc.co.uk/bitesize/primary
Your child can spend time revising all Year 4 spellings and using them in written sentences to show that they understand their meaning. They can also go back through their homework task sheets in their Homework Book to check which spellings they found tricky.
The most valuable thing your child can do is read! Read whatever they are interested in and talk about what they read. Read together and with siblings or to younger siblings. Try to access fiction, non-fiction and poetry.
Don't forget how important board games are for learning strategies, counting, taking turns and learning how to be a 'good' loser or gracious winner. The old pen and paper games like hangman and noughts and crosses are also helpful.
| Name | |
| --- | --- |
| Year 4 Topic Map Autumn 2 2020.pdf | Download |
| Year 4 Newsletter Autumn 2 2020.pdf | Download |
| Year 4 Spellings 2020.pdf | Download |
| Year 4 Newsletter Autumn 1 2020.pdf | Download |
| Year 4 Topic Map Autumn 1 2020.pdf | Download |
| Y4 Topic Web Spring 2 2020.pdf | Download |
| Y4 Newsletter Spring 2 2020.pdf | Download |
| Year_4_Multiplication_Tables_Check_Presentation_to_Parents [Read-Only].pdf | Download |
| Y4 Newsletter.pdf | Download |
| Y4 Topic Web.pdf | Download |