Year 4
WELCOME TO DAVIES CLASS
Welcome to Year 4
In Year 4, learning journeys have been expertly designed to capture children's interests while exposing them to the wonders of the world beyond their own experience. Topics across the curriculum are comprised of a range of immersive learning experiences that challenge learners' thinking and encourages them to further question, investigate and analyse concepts. In addition to this, teaching and learning is rigorous, nowhere more so than in the basics, and expectations are very high, but it is exciting and meaningful for the children. Children in Year 4 will fall in love with reading, learning and exploration.
Our class country is Italy. We will learn about its landscape and physical features as well as the rich history of Ancient Rome and the spread of the Roman Empire across the world.
Nicola Davies is our class author and we have a selection of her books available in the classroom and library to enjoy. We will explore her amazing stories and look at the meaning behind her stories and how she portrays this using language and character personalities.
Making a Change
This half term in Year 4 we are learning how to make a change in our community. We will be looking especially at the effects of recent global events on groups of people and how we can help them.
We are currently writing stories based on 'Footpath Flowers' by JonArno Lawson which spreads the message of kindness through small everyday acts. The children will be learning to develop simple sentences by including a range of grammatical techniques which they have been practising in our GPS lessons.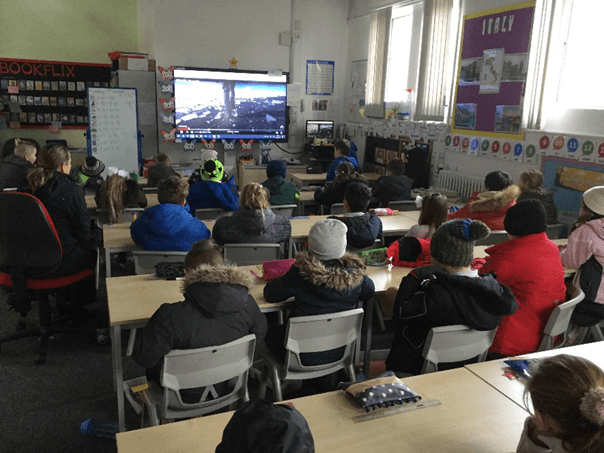 Our WOW day
In lieu of actually going to Iceland, we suited and booted in our warmest winter gear and went on a virtual tour through glaciers and under waterfalls. Our favourite part was fly over canyons and looking down at the tumbling water below.
Mathematics
Our maths focus at the moment is fractions, including top-heavy and mixed fractions. Homework will be set every Friday on My Maths which you can find at the link below. https://www.mymaths.co.uk/
The children are continuing to work on their times tables with weekly challenges to test their knowledge and speed recall. They can practise their tables at home using Times Table Rockstars, My Maths and writing them out of order at home. https://play.ttrockstars.com/
Please find activities and information by following the Third Space Learning link. This is a website with step by step videos and worksheets (which you can print or just have a go at on paper whilst looking at them on the screen). Basic addition, subtraction, multiplication and division using standard methods would be good to practice.
https://thirdspacelearning.com/blog/how-to-teach-telling-time-ks1-ks2-activities/
English
Year 4 spellings are set fortnightly and all groups focus on the same sound. These are available at the end of this page or you can access them on Google Classroom under the homework section.
Remember to try and read with your child as much as you can even if it is only 5 minutes a day. Not only does it help with their word recognition and understanding but it improves their confidence when reading aloud and helps them to use tone in their voice. Reading books are changed every Tuesday and Friday.
The children love Free Writing and Pobble 365 has a new writing stimulus every day! There are sentence starters and prompts with each sentence and your children already use these in the classroom.
Handwriting
Please encourage your child to practice their handwriting skills whenever they are writing - the Letter Join website is available to support handwriting practice. The username is ak3814 and the password is home.
Other useful links for home learning
You can also access all the other website links within the 'My Learning' area of this website under 'Useful links'. Let your child find out about and learn within an area they are interested in/a subject they enjoy or have a talent for e.g. Geography and mapwork/digital maps or History and a particular period of time that your child is interested in.
BBC Bitesize has great videos games and activities for all areas of the Key Stage 2 curriculum https://www.bbc.co.uk/bitesize/primary
| Name | |
| --- | --- |
| Year 4 Autumn 1 2021 Topic Web - A Carnival of Animals.pdf | Download |
| Y4 Newsletter Autumn 1 2021 Carnival of Animals.pdf | Download |
| Year 4 Summer 2 Spellings.pdf | Download |
| Year 4 Spellings Summer 2021.pdf | Download |
| Year 4 Topic Summer 1.pdf | Download |
| Year 4 Topic Map Autumn 2 2020.pdf | Download |
| Year 4 Newsletter Autumn 2 2020.pdf | Download |
| Year 4 Spellings 2020.pdf | Download |
| Year 4 Newsletter Autumn 1 2020.pdf | Download |
| Year 4 Topic Map Autumn 1 2020.pdf | Download |