World Book Day 2019
World Book Day 2019
28 February 2019 (by Suzanne Prince (Sprince))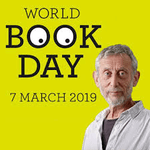 Thursday 7 March is World Book Day!
It is World Book Day in Thursday 7th March as as always there are many events planned at Lyminster.

Mrs Bennett will be introducing the day with a special World Book Day Assembly.

We are asking the children to come dressed up as their favourite book character and there will be a prize in each class for the best-dressed child.

In their classrooms children will be designing a book token for a National Competition, for more information click here. The best design from EY/KS1, Years 3 and 4 and Years 5 and 6 will win a book token from Lyminster but all the designs will be entered into the World Book Day Design a Book Token competition.

AT some point during the day Mr McGinley will be ringing the school bell to start a Drop Everything and Read (DEAR) 30 minutes. Please ensure your child has their reading book with them so they can spend a quiet half hour reading for pleasure.

We hope all the children and staff will have a fun and enjoyable day.

Thank you for your support.